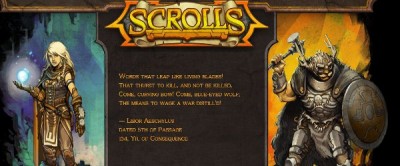 There's no game at market right now with more indie credibility, and media attention, than Mojang's Minecraft. And it was to this expansive audience the developers announced their second studio project: Scrolls. The digital card/board game was announced as part of this past week's Game Developers Conference by Minecraft creator Markus 'Notch' Persson.
Players will be able to build their own decks of cards with various battle effects to challenge other players, with new card packs released incrementally. Combat will take place in a Chess-like fashion, with cards able to play in attack or defense mode, wearing your opponent's line of defense to attack their "King". Like many card conflict games, a new card – or "Scroll" – is added to the player's hand at the start of each round. The single player campaign will act as a lengthy tutorial for the game's multiplayer suite, which charts player's statistics and will (hopefully, according to Mojang) have regular sponsored tournaments.
"Notch [Markus Persson] and I started discussing the idea of Scrolls nearly five years ago."discussed Jakob Porsor,"We are both great fans of the CCG genre, but we felt that there were some common gameplay flaws in the available titles. We're excited to finally put all our thoughts into action with the realization of Scrolls."
Jakob Porser is heading development, with Markus Toivonen handling art and fellow Mojang staff helping out. Penny Arcade's Jerry "Tycho" Holkins has agreed to get on board and provide a back-story for the card game.
"Ever since Minecraft took root in the offices, it's transformed once vital staffers into shambling hulks, concerned only with the construction of monolithic structures," Holkins remembered,"When Notch said the Mojang guys had an idea for another game, I decided it would probably be safest just to join them."
Both a free open and closed beta are played for the game, with details being announced in the coming months.
Are you excited for Scrolls, E-Gs? Can the guys at Mojang make Minecraft lightning strike twice? Give us your thoughts below!