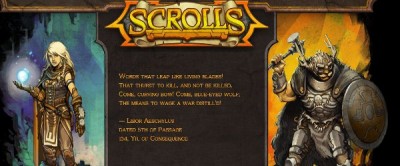 Like Minecraft before it, Mojang Specifications' Scrolls will be released in beta form and continually updated and patched until completed. The release pattern was confirmed by Mojang's Daniel Kaplan at this year's Gamelab in Barcelona Spain last week, who also revealed the increase in the development team from "largely" one person – Markus "Notch" Persson – to five. Mojang is also looking into the possibility of becoming a publisher for other independent titles, although the move remains theoretical at this point in time.
"With our new game, Scrolls, we'll follow the same formula as Minecraft," said Kaplan. "That means we'll release the game very early."
Speaking on the development size, Kaplan added, "That sounds like a small team, but it's very big for us…One thing that means is we're going to have to outsource art."
(via Gamasutra)
Is a piecemeal release strategy a good move, should Scrolls turn out similar to Minecraft? What's the EG opinion on Mojang becoming a publisher? Give us your reactions in the comments section!