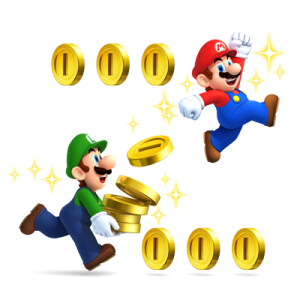 Nintendo held their second hardware showcase of the show earlier tonight, devoting an hour to fleshing out a few previously announced games for the 3DS. Their fourth – and final – conference of the show, the series of stage demonstrations brought a bit more light to the likes of Paper Mario, Epic Mickey, and New Super Mario Bros 2.
Paper Mario: Sticker Star was demonstrated showing its bottom screen solely devoted to an inventory for stickers (which you'll have to manage the space in, Diablo style). Attacks in the game's turn-based battles will be issued strictly through command prompts, each victory producing collectible coins. Stickers will populate the in-game environment and need to be collected, certain situational uses demanding specific stickers to either progress through the narrative or acquire additional experience points.
Epic Mickey 2: Power of Illusion got a release date of November 18th (alongside its console counterpart), and new trailers were broadcasted for Kingdom Hearts 3D: Dream Drop Distance and Scribblenauts Unlimited. Castlevania: Lords of Shadow – Mirror of Fate was confirmed to have StreetPass functionality, and includes a playable Alucard. Finally, New Super Mario Bros 2 revealed a co-op option for its entire campaign, casting the second player as Luigi, with the dominant player controlling the speed of the screen scrolling. An emphasis on massive coin collecting was also discussed, with player's coin count hinted at being a defining characteristic associated with Miiverse accounts.