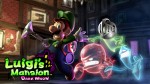 02 Apr
The Ghostbusters tagline does not apply here.
16 Feb
Nintendo has announced several new titles for the Nintendo 3DS and confirmed many release date for the handheld and WiiU at its Nintendo Direct conference.
The Wii U has been announced and everyone has a different opinion, but what is fact is the potential it has with the right games.