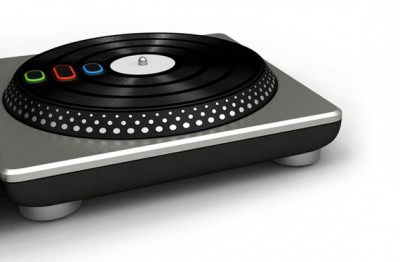 Looks like you don't have to wait until E3 to announce new games, as both Activision and Warner Brothers have taken the initiative in revealing new entries to their existing franchises. Despite its initial lackluster sales, DJ Hero will receive a direct sequel this fall. Available for the Xbox 360 and Playstation 3, DJ Hero 2 will feature a brand new story mode, dubbed "Empire", that will take the player's character from nobody status to ultimate DJ mastermind. The game will also feature jump in/out party play and DJ vs. DJ battles, as well as a new setlist featuring artists like Lady Gaga, Daft Punk, and Deadmau5.
"DJ Hero was the best music game of 2009 and with DJ Hero 2 we're delivering a new easy to pick-up, challenging-to-master experience that all players can enjoy together," said Guitar Hero COO David Haddad. "With new social game modes, the inclusion of full microphone support, all-new levels of creative freedom and an amazing soundtrack, DJ Hero 2 is the ultimate mixer of music and friends."
"We're improving upon all the gameplay elements from DJ Hero that gamers loved with the all-new freestyle gameplay and a host of new multiplayer game modes," said Jamie Jackson, Creative Director of DJ Hero developer FreeStyleGames. "But we're not stopping there either as the award-winning soundtrack is getting bigger songs from hotter artists that our talented crew of DJ's is spinning into hits that fit the gameplay flawlessly."
To celebrate the launch announcement, players can download a free remix track featuring Lady Gaga's "Just Dance" and Deadmau5's "Ghosts n Stuff" on the Playstation Network and Xbox Live from now until June 14th.