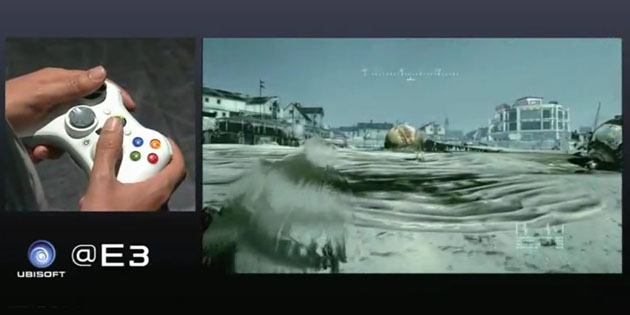 During the Ubisoft press conference earlier today, a new trailer was shown for Ghost Recon: Future Soldier. The trailer showed several aspects of the "future soldiers", such as exoskeletons, shoulder-mounted rocket launchers and enhanced vision. The Ubisoft representative stated that the developer has been working together with several armed forces around the world to create a futuristic yet realistic vision of the warrior of the future.
Some gameplay footage was also shown, with the representative indicating that the game will be playable in full stereoscopic 3D and that the game would feature four-player cooperative play. Several features, such as the optical camouflage that had been shown in previous trailers, was also shown in-game. Players will be able to utilize this particular ability to sneak around and get close enough to perform melee-range kills. Specifically, the player was shown executing a turret-gunner without alerting a nearby opponent and holding the slain enemy in place to avoid raising suspicion.
A release window was not announced for the game, though access to the multiplayer beta was included with Splinter Cell: Conviction. This multiplayer beta is slated for a release later this summer.