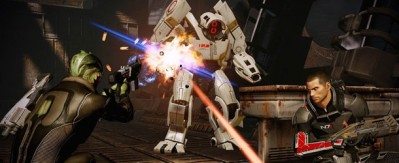 A game just isn't AAA anymore if it doesn't feature a mode that lets you get a few of your friends in on the action. Mass Effect, while a long-successful single player franchise, seems to be looking into soon adding multiplayer functionality. A job listing on Electronic Art's employment page is asking directly for a Multiplayer Programmer, including a description of the Mass Effect franchise.
"We are working on Mass Effect, one of the industry's most beloved and acclaimed franchises, as we build our way toward becoming a fully self-sufficient BioWare studio. If you want to help us achieve our mission of delivering the best story-driven games in the world, and you dream of being part of a dynamic, talented and focused team, now is the time to get onboard."
This could mean either that Mass Effect 2 will be retro-fitted with a multiplayer component via DLC (as Bioware has been pretty consistent with its post-release support for the title), or Mass Effect 3 coming packaged with the functionality. There is a slight chance that the position is going only to Bioware's Star Wars MMO The Old Republic, but rumors seem to be on the side of some co-op Normandy missions.
What's the E-G opinion? Will be playing as Garrus alongside a friend's Commander Shepard? Is this something you would want in Mass Effect? Give us your opinion below!