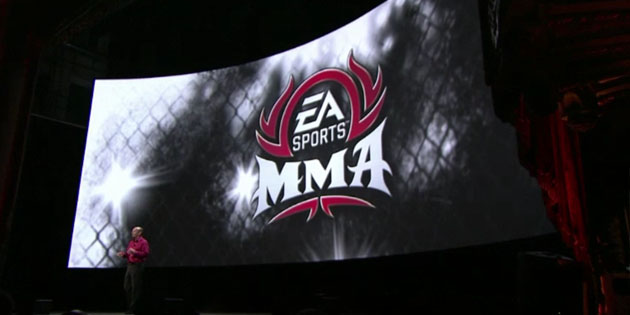 Peter Moore, the head of EA Sports, took the stage during the EA press conference to unveil new features of the upcoming fighting game, EA Sports MMA. Moore re-emphasized that the EA has the exclusive rights to use the likeness of MMA fighters in their upcoming game and indicated that all popular MMA fighters are included in the game. The game will also contain accurate representations of the diverse range of training centers and fighting styles found throughout the world at countries participating in the MMA.
Moore also introduced a new feature that allows players to become part of a live EA Sports broadcast at which actual prizes can be won. Players will be able to create their own character and take it online to compete with other players. They will then be able to publish footage of these fights, and depending on their fighting style and consistency in applying this style, they may be 'scouted' by EA Sports representatives to participate in these events.
EA Sports MMA will be available in stores on October 19th, 2010.