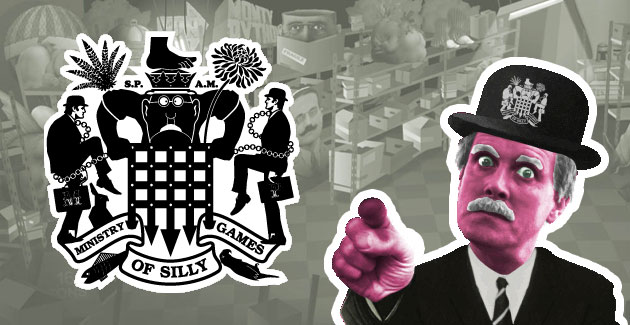 Believe it or not, the Monty Python series has inspired four video games, all of them being released on Macintosh and Windows computers from 1990 to 1997.  Now, 13 years later, the Ministry of Silly Games has been founded.

Developed by social and casual games developer Zattikka, the Ministry will feature the following titles at launch:
King Arthur's Knight Fight
Monty Python's Scratch 'N Sniff
Camelot Smashalot
Twit Russian Roulette
Mr Creosote
Gumby Flower Arranging
Gillaxian
Aerial Antics
The Ministry of Silly Games will be a virtual world of free to play games, set to launch in Q1 of 2011, with a beta signup already in full swing.  The game will also be fully integrated with Facebook.  Monty Python member Terry Jones said:
"The Ministry of Silly Games brings Monty Python characters and scenes to life like never before.  For years, people have wondered what it would be like to catapult livestock at French fortresses, or play Russian Roulette with an Upper Class Twit. Well now they finally can, thanks to The Ministry of Silly Games."
And Monty Python animator and collaborator Terry Gilliam was quoted as saying:
"I guess my visuals have always been a bit videogamey, so it's brilliant seeing them actually in games at last. The Ministry of Silly Games looks like what was inside my head when I was creating all that iconic imagery. I know the game will prove massively popular when it launches."
While many 'hardcore' gamers may have avoided the casual and social gaming scene, this is something we at Elder-Geek eagerly anticipate.  Zattikka CEO Tim Chaney says that the Ministry will "transport Monty Python into the 21st century, with a totally new experience for their unique comedy that will delight old and new fans alike."
More information including screenshots, concept art, videos, and a signup form for the beta can be found at the official site.