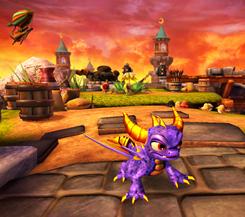 One of the stronger franchises to be born out of the waning platformer boom of the 5th generation, Spyro the Dragon spanned eight games and gained a solid following before settling down in 2008. Never one to let sleeping dragons lie, Activision has announced that it is bringing the pint-sized reptile back into the limelight with Skylanders: Spyro's Adventure.
The new title will ship (for $70) with 3 figurines, trading cards, and a "portal" peripheral that will effectively bring the figures to interactive life in the game. Each character figurine comes with unique in-game abilities, like Spyro's head-butt and fire spray attacks. Activision also plans to launch a larger line-up of (inter-)action figures sold separately, for a total of 32 available characters. Skylanders has some serious multi-media talent behind it as well, with Hans Zimmer ("Inception") composing, Alec Sokolow and Joel Cohen ("Toy Story") writing, and Tom Hester ("Shrek") designing the characters.
"These are toys with brains," said Eric Hirshberg, CEO of Activision Publishing. "It's got a whole universe of characters and an incredible backstory and a number of different ways to interact with it…Usually franchises take years to develop the kind of universe that we will have Day 1."
"We definitely wanted to take Spyro to next level," Hirshberg continued. "But when you see the line-up of toys together, you will understand this has gone way beyond Spyro. This has become an ensemble cast."
No release platforms have been announced, but more information will be revealed about the game and the collectible figurines at next week's New York Toy Fair.
[youtube]http://www.youtube.com/watch?v=2C-RoQHs_b4[/youtube]
Happy to see Spyro back? What's your take on the figurine peripheral model? Comment below!