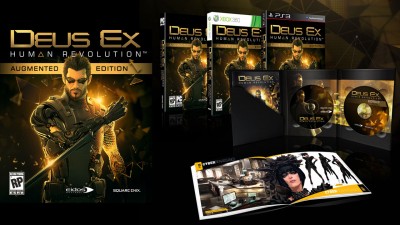 [Initial reporting done by Eli English]
Deus Ex: Human Revolution
has been gaining a lot of hype recently from both old fans of the series and newcomers of the title. If you're one of those interested, then the recently announced
"Augmented Edition"
may be further incentive to pick it up day one. To see the full list of collector's edition inclusions, follow the jump.
– A new mission for you to complete.
– 10,000 extra in-game credits.
– Weapon Pack: The Huntsman Silverback Double-Barrel Shotgun, the SERSR Longsword Whisperhead silenced sniper rifle, the Linebacker G-87 multiple shot grenade launcher, the M-28 Utility Remote-Detonated Explosive Device
– An Automatic Unlocking Device
The Augmented Edition will also contain a 44-minute "making of" DVD , the official soundtrack, a motion comic adapted from the DC series, an E3 trailer, 1 animated storyboard, and a 40-page artbook. The "Augmented Edition" will cost $70, with all versions of Deus Ex: Human Revolution releasing on August 23 in North America, and August 26th in Europe.