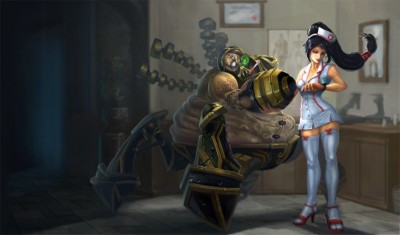 [Initial reporting done by Eli English]
The March 11, 2011 Tsunami in Japan is continuing to leave thousands without homes and basic resources. Riot Games, the developers and lead publishers for League of Legends (or LoL for short) have decided to do what they can to help. Players or "Summoners" who play the game can purchase the nurse skin for the "Akali" character, and Riot Games will donate 100% of the proceeds to the Red Cross in order to help those in Japan.

Site moderator Bryonichero announced the event via the official site for League of Legends.
"From now until 12:00pm on Sunday the 27th, all proceeds from the purchase of Nurse Akali or RP purchases of the champion Akali will be donated to the Red Cross to help those in need following this tragic occurrence." Bryonichero continued with, "you'll also find that we've placed the champion Akali – along with her alluring Nurse Akali skin – on sale for 50% off to encourage donations."