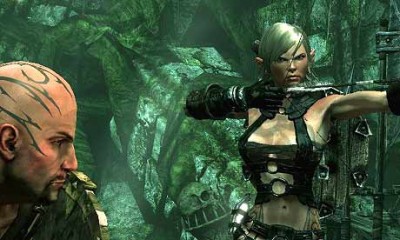 Bethesda Softworkstoday announced that Lucy Lawless will lend her voice to the fantasy action game, Hunted: The Demon's Forge .  Hunted will be available in North America on June 1 and throughout Europe June3 on the Xbox 360, PlayStation 3, and Games for Windows.
Lawless, who rose to fame through her groundbreaking performance as "Xena: Warrior Princess," currently stars in the television series, "Spartacus: Gods of the Arena" and recurs on the ABC series "No Ordinary Family". In addition to these two high-profile roles, she also starred as D'Anna/Number Three in the critically-acclaimed Syfy Channel series "Battlestar Galactica."
"Hunted is an incredibly dark, intense game and I'm delighted to have the opportunity to work on such a thrilling project," said Lucy Lawless.  "After playing the heroine for so long it's refreshing to portray such a villainous, seductive temptress!"
In Hunted, Lawless voices the character of Seraphine, an adventurer-turned-temptress. Under the influence of the Demon Forge's ancient and powerful evil, she appears as a spirit guide that lures Caddoc and E'lara, the game's protagonists, into a dark and twisted adventure with promises of great wealth and power.
Hunted has not yet been rated by the ESRB. For more information about Hunted visit www.HuntedTheGame.com.