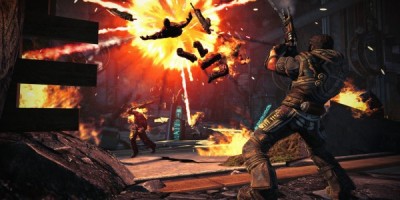 A direct follow-up to People Can Fly's arcade shooter Bulletstorm had made it into production before the project was canned by Epic Games. The Polish team has since been moved to a different, unannounced project. According to Epic Games President Mike Capps, the original Bulletstorm wasn't enough of a success to merit the budget for a sequel. Speaking to Gamespot UK at PAX East this past weekend, Capps is quoted as saying, "From a sales perspective it was good, but not amazing. I think EA was hoping we'd do better".
"We thought a lot about a sequel, and had done some initial development on it, but we found a project that we thought was a better fit for People Can Fly," detailed Capps, "We haven't announced that yet, but we will be announcing it pretty soon."
"I'd love to go back [to Bulletstorm]," Capps added. "I think there's more to do with Bulletstorm. Heck, it kind of ended wanting more. I'd love to see another project, but right now we don't have anything to talk about."
This is Epic Games' second major project cancellation in as many days, the company revealed yesterday that it had stopped production on the Kinect-based Gears of War: Exile.