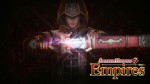 06 Mar
Unify China as you see fit.
Last Warriors title for a while. I promise.
KOEI has released new screenshots for the seventh installment in the Dynasty Warriors series. These screens feature Diao Chan, Gan Ning, Huang Gai, Pang Tong. Wei Yan and Xu Huang. They can be viewed after the jump.