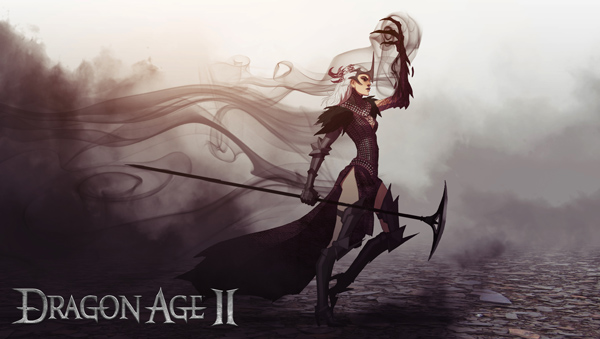 For those of you like myself who are wondering why Dragon Age 2 wasn't announced at E3, we've finally received the official word that Dragon Age 2 is indeed coming.  Shocker!  I know.  It was never a matter of if, but of when.  Will the following information about this game make you salivate or take a step back in thought?  Let's find out!
The below quote is straight from the Dragon Age 2 website.
"Experience the epic sequel to the 2009 Game of the Year from the critically acclaimed makers of Dragon Age: Origins and Mass Effect 2. You are one of the few who escaped the destruction of your home. Now, forced to fight for survival in an ever-changing world, you must gather the deadliest of allies, amass fame and fortune, and seal your place in history. This is the story of how the world changed forever. The legend of your Rise to Power begins now.
Key Features:
Embark upon an all-new adventure that takes place across an entire decade and shapes itself around every decision you make.
Determine your rise to power from a destitute refugee to the revered champion of the land.
Think like a general and fight like a Spartan with dynamic new combat mechanics that put you right in the heart of battle whether you are a mage, rogue, or warrior.
Go deeper into the world of Dragon Age with an entirely new cinematic experience that grabs hold of you from the beginning and never lets go.
Discover a whole realm rendered in stunning detail with updated graphics and a new visual style."
It doesn't end there either.  BioWare's main website has some very intriguing news as well.
"Dragon Age 2 progresses the epic saga, as you take on the role of Hawke, a survivor of the Blight and the hero who will change the world forever."
Quite a healthy amount of news for an announcement.  Here are a few of my initial impressions based on all of this.  Speculation if you wish!  The theme of rising to power by any means necessary amidst a world that morphs over years sounds a lot like Fable, so I'm quite curious to see how this plays out.
It would appear that the hero (or heroes) you played in Dragon Age: Origins and Dragon Age: Awakening has been officially tossed aside to make way for a completely new story in the Dragon Age universe.  Presumably one with far less pigeons and related flying beasts.  Seeing as how BioWare has named the hero you will be playing "Hawke" I believe it's highly likely that the character will receive voice acting treatment in the same vein as Commander Shepard from the Mass Effect series.
Pieces of art showing a dragon like claw for the hand of the headline male warrior and separately for a female mage seem to indicate some kind of hybrid thing going on.  Maybe even part Darkspawn?  The switch to dynamic combat mechanics may be an attempt to "consolize" the game, which for a PC gamer could be worrisome until more information is made available.
Lastly, the concept art seems highly reminiscent of the line heavy and jagged style found in the Clone Wars cartoons.  I for one hope we're not about to see World of Warcraft/The Old Republic cartoon style graphics or an abundance of cell shading.  I'm a proponent of realistic graphics in a game like this.  Especially since the first game established that look.  Who knows!  Maybe I'll be swayed with what I see.
Hopefully the debut trailer for this game will be able to answer a few of these curiosities when it hits the internet on the 17th of this August.  All of you out there may very well have differing opinions, so please feel free to voice them in the comments section!