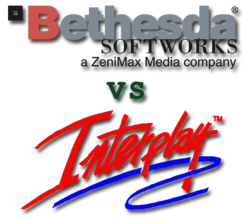 The four-year long battle between Bethesda Softworks (and parent company Zenimax Media) and Interplay – over the right for the latter to produce Fallout Online – has finally been settled. According to sources from Duck and Cover, Bethesda has dismissed with prejudice their suit from Interplay, a legal term which means a permanent stay of this and all future lawsuits on the same matter. Details on the case will be released later this month.
The feud began with the sale of the Fallout IP from Interplay to Bethesda in 2007, and Interplay's subsequent development of a Fallout MMO. Bethesda filed a case against Interplay in September of 2009, saying the terms of the IP exchange only gave the former rights holders the ability to create an MMO named "Fallout", all other assets now being owned by Bethesda. Interplay would later win the injunction for the case, with Bethesda's appeal of the decision being denied just this past October.
The two parties had a similar lawsuit in the works over Interplay's right to re-release the first two games in the Fallout franchise. Interplay would win the contract injunction December of 2009, Bethesda dropping their appeal of that decision the following April.
(via Games Radar)