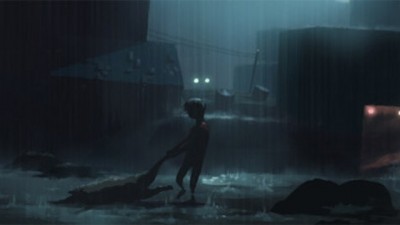 The Danish Government's list of its interactive grant recipients includes some interesting prospects on the next game from the LIMBO makers over at Playdead. Currently under the straight-forward working title "Project 2", the listed details (translated by Kotaku) characterize the game as a 2.5D platformer in color which "tells the story of a boy's struggle against evil forces trying to take over the world through questionable experiments on human bodies."
The included concept art (above) features a child that alludes – at least proportionately – to the protagonist of LIMBO, interacting with what is assumed to be one of the experimented-on human bodies in the game's description. Dubbed "…more crazy than LIMBO…more weird in many ways…" by Playdead founder and CEO Dino Patti last October, the production cycle of "Project 2" is expected to last around three and a half years. Given that it was confirmed the studio was working on a new project shortly after LIMBO's 2010 release, that puts the prospective release window sometime in Q1 2014.
"Project 2" is listed for release on Mac, PC, Playstation 3 and Xbox 360.
(via Kotaku)