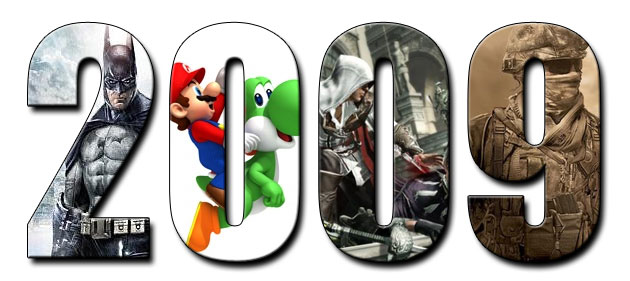 2009 was a year that we, for better or worse, won't ever forget. From ringing in (and becoming disillusioned with) a new Presidency, to having to suddenly become accustomed to a more positive definition of the word "twit," I can say without fear of stereotype that the final year in the century's first decade has stabbed its way into the history books.
Far from being removed from the rest of the world, the video game industry acted both as a microcosm of the social climate around it, and gave us the escapism needed to ignore said climate when necessary. 2009 had its share of ups and downs as much as any other year, the twelve month landscape dotted with a near-impossible amount of high-profile happenings. So, let the Gav take you back through the year that broke records, broke controversies, and broke all of our expectations.
—–The Recession-Proof Industry is No More——
The most impossible trend to ignore in 2009 was the economic down-turn to one of the most reliable cash-cow industries in the world. Lay-offs both major and minor hit some of the top publishers and developers in the business (Electronic Arts: 1,500; Activision: an entire studio+; ) and more markedly from the smaller companies ('Edge of Twilight' Devs Fuzzyeyes, Aspyr Media.) With big losses coming at all points of the year, most company representatives came back to us at Elder-Geek with the same – logical – excuse: sales drops. It seems that even the steel-willed entertainment industry couldn't bear the recession tide any more, as almost every quarter saw a drop in comparative numbers from last year. The long-true strategy of hardware bundling proved poisonous, and even the stalwart Black Friday consumer-phenomenon racked in 8% less than 2008, leaving little surprise to be had when the industry rounded out 2009 down 36% in investment. We even lost some magazines, one coming back in some form (EGM) the other left in the cold (PSW.)
On a more itemized scale, several companies are going into winter hibernation to lick some serious wounds. Developer Take-Two Interactive posted a $138 million loss over the year, and Sony Computer Entertainment continues to hemorrhage funds each quarter. Ubisoft also lost some major pocket change, but due to the almost forgotten threat of piracy (how retro of them.) But the blows that felt hardest where when studios both beloved (bye bye Pandemic and Eidos publishing) and not (GRIN and Midway)  had to shut their doors for good. 3D Realms also seemed to briefly shut down, reminding us somewhat confusedly that people still pay them for some reason.
All is not lost, however, as a drop in overall numbers wasn't all the news on the financial front of '09. While many casual game fronts that had supported the industry this generation fell short this year, core gamers briefly returned to relevancy with a 17% uptick in sales for the last half of the year. Strong numbers for titles like Batman: Arkham Asylum (2.5 million in one month,) and Left 4 Dead 2 (2 million in two weeks) in addition to expected blockbusters like Call of Duty: Modern Warfare 2 and Final Fantasy XIII (in Japan) help remind developers that the audience that's been with them for decades can still vote well with their dollars.
—–E3 is Back!—–
As Elder-Geek's own representative to the Big Boy's Club this year, I experienced first-hand the return to glory of gaming's biggest event. All of the major games were represented both big and small, the Electronic Entertainment Expo drawing 40,000+ people from both the industry and public. Scribblenauts surprised many with its immense vocabulary, and the expected big releases (Assassin's Creed II, Uncharted 2, New Super Mario Bros. Wii, and Alan Wake being some of the highlights) had their trailer-moments in the sun, but each of the Big Three came away with a chunk of the attention in 2009 with some impressive announcements.
Microsoft started E3 off big with some on-stage Beatles magic, and Halo: Reach and (briefly-believed-to-be-exclusive) Metal Gear Rising teasers, but their demonstration of Project Natal stole the show and nabbed the company multiple "Best of" awards. Nintendo teased a bit with a over an hour of casual plugs (Golden Sun DS not-withstanding) before the knock-out punch of  Metroid: Other 'M' caught even the most suspicious gamers by surprise. And while Sony didn't have nearly as many awe-inspiring reveals (the launch of the PSPGo being leaked long before it appeared in Kaz Hirai's hands,) the company managed a rock-solid showing of its known properties as well as fiddling about on-stage with their new 'Wand' and the customizable Mario Kart that is Modnation Racers. Oh, and for some reason, they talked about (the also-briefly-believed-to-be-exclusive) Final Fantasy XIV, to laughs of surprise from the audience (the loudest being my own, naturally.)
We didn't get Zelda on the Wii or our 2009-release date for God of War III, but there is no denying that the daddy of all video game conventions has come home after two terrible missteps of years. Now we just have to make sure it stays this way…
The rest of The Gav's E3 thoughts can be found here and here.
—–Of Price Cuts and Portables—–
Perhaps in direct connection with the continued economic downswing, each of the three major home consoles got a price reduction this year to high acclaims and relieved sighs of "Finally!" First out of the gate was Sony's Gamescom-absorbing (wasn't Fable III announced at some point?) dual-announcement of a Slim SKU and adjoined price cut for the Playstation 3, bringing the Black Behemoth down to a manageable size and $299 price tag. Despite the leak from Kmart happening less than a day beforehand, nothing seemed to quench the excitement for the new model, which broke Amazon.com's pre-order record and brought the console's sales up 999%, selling one million units in its first three weeks. But while Sony continues to support the console with region-exclusive and holiday-season bundles, its dominance over the Wii in the NPD sales was short-lived. The Xbox 360 followed competitive suit with its own price cut shortly after.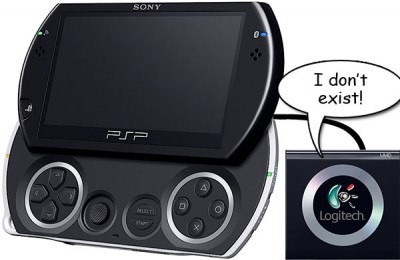 On the other side of Sony's success was their new iteration of the Playstation Portable, the all digital-PSPGo. The self-described worst kept secret of E3, the new handheld launched to mixed acclaim and slow sales, most likely because they ignored Elder-Geek's own list of qualifications. Despite 16,000 items available at the system's launch (and the copying of Nintendo's "Stupidly Named Hardware Sells" policy,) the PSPGo received a price cut in the UK only two months after its worldwide launch. After a hilariously fake Logitech UMD-add on further teased hardcore on-the-fence buyers, the system has since resigned to minimally changing the PSP's lukewarm sales. It turns out we all wanted that wickedly awesome fan-modded version after all.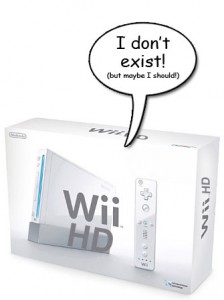 It wasn't all Sony news this year, as Nintendo had only to counter with a similarly obligatory price cut to reclaim fiscal superiority for the rest of the year, despite the continued rumors for a Wii 2.0 (or the continued fan-longing for a Wii-HD.) Seeing an 85% sales boost was just the beginning for the Big N, as they introduced a new string of DSi units to satiate some consumer complaints with the previous models. The DSi XL (LL in Japan) sported bigger screens and a slightly bigger price tag, but their announcement – if anything like the DSi's – will only spark more millions of units sold for Nintendo. While having been released in Japan for over a month now, Western gamers will have to settle for it being one of their top must-buys of next year. And this is all after the immense success of the original DSi units in the Western market since it's April launch.
We aren't close to done yet! Check back for Part 2 and the rest of 2009's Greats and Grievances!